Our Amazon Fire TV Stick review discusses some of the reasons why it's a device that makes such a good gift for people that want to stream movies and TV shows.
Once you have purchased and set up the device, however, you might need to change some of the settings based on your own preferences.
One such setting that I usually adjust is the screensaver.
The Amazon Fire TV Stick screensaver can be modified to display several different types of content, and it can activate after a few minutes of inactivity.
Our article below will show you how to find and change the settings for that screensaver.
How to Stop the Amazon Fire TV Stick Screen Saver
Select the gear icon.
Choose Display & Sounds.
Select the Screensaver.
Choose the Start Time option.
Select Never.
Our guide continues below with additional information about how ot turn off the screensaver on the Amazon Fire TV Stick, including pictures of these steps.
Many devices that display content on a screen will have some type of screensaver option.
You may mostly be accustomed to setting a screensaver on your laptop or desktop computer, but the Amazon Fire TV Stick has a screensaver option as well.
This can be useful in preventing burn in on your TV, and it can be a more pleasing thing to have on the screen that a paused image.
But if you dislike the screensaver or would prefer that it not activate at all, then you are able to adjust the settings for the utility so that it never comes on.
Our tutorial below will help you find the screensaver settings and turn it off on your Fire TV Stick.
How to Disable the Screensaver on the Fire Stick (Guide with Pictures)
The steps in this article were performed on an Amazon Fire TV Stick 4K, but will work on most of the different Fire TV Stick models. The device I am using in this article is running the most current version of the Fire Stick's operating system.
Step 1: Turn on the Fire TV Stick and select the gray gear icon in the middle row of the screen.
Step 2: Use your remote control to scroll to the Display and Sounds menu and select it.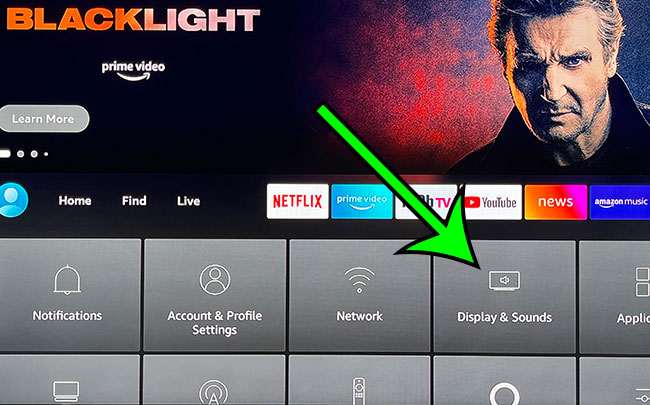 Step 3: Scroll down and click on the Screensaver item in the menu.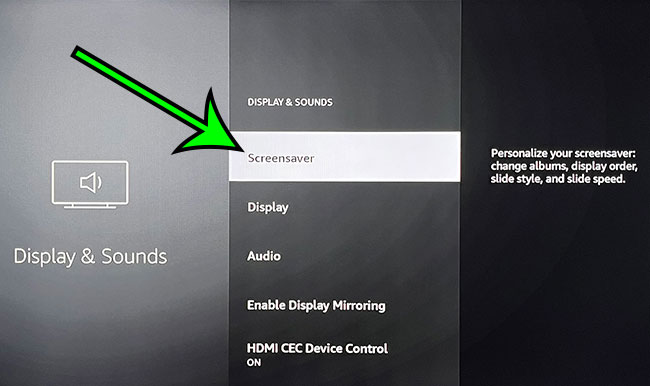 Step 4: Scroll down and choose the Start Time option.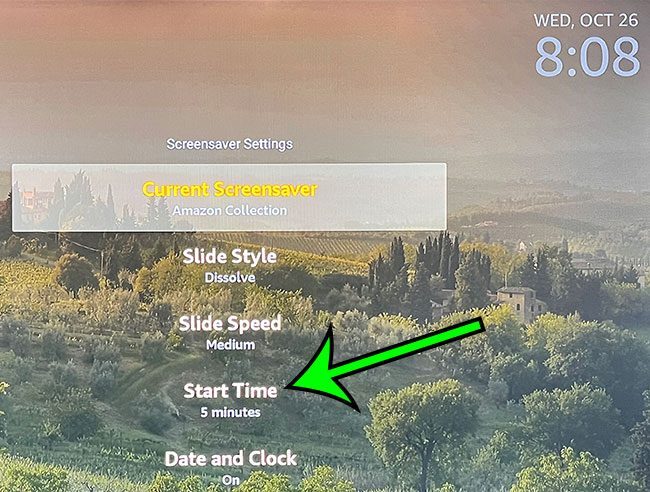 Step 5: Select Never from the list of duration options on this screen.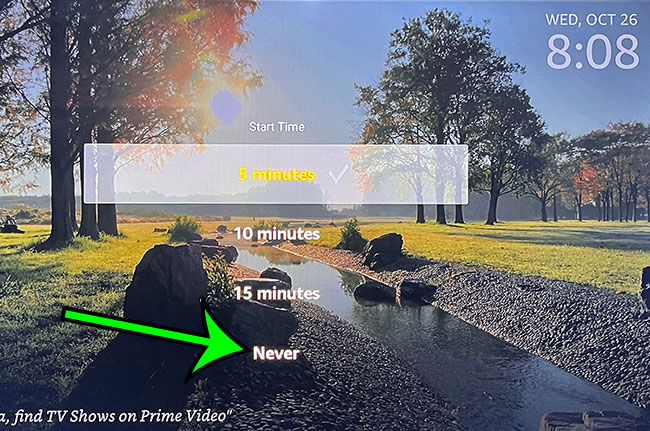 Now that you know how to turn off the screensaver on an Amazon Fire TV Stick you will be able to turn it on or off as needed.
More Information About the Screensaver on the Fire TV Stick
As you probably noticed when following the steps above, there are a few other options that you can change for the screensaver if you don't want to turn it off completely.
One of the options that you can switch is the content that is displayed by the screensaver.
You will see several different options when you select that option, including one where you can even use your own pictures as the screensaver. However, this will require you to install the Amazon Photos app on the device, and you will need to have some photos in your Amazon Photos storage to use them.
If you have an Amazon Prime account, however, then you can use an unlimited amount of storage space in that app for your pictures.
Matthew Barkley love tech, and is obsessed with finding fun and new products that are useful or exciting. He has been a freelance tech writer for years, having written thousands of how-to guides and worked with hundreds of products and applications.